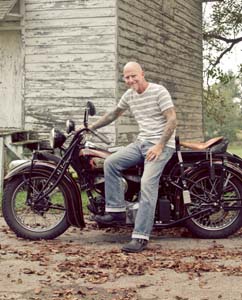 Brett Stuart Wilson
Abingdon, MD
410-676-1224
BSWartist@gmail.com
My first recollection for the love of music was as a 12 year old boy, listening to the blues legends on Radio Free Luxembourg while living in Vicenza Italy. I credit my mother who was an artist for the luxury of being exposed at an early age to the timeless art and architecture of Europe as well as becoming familiar with various art mediums. By the age of 15, I was sneaking into NCO clubs to hear the soul bands covering the then current Stax/Volt and Motown tunes. Later my family moved back to the States and settled in Virginia. Influenced by the aura of Italy's art, I began my formal art education.
The Art for Music project bridges the gap between my passion for art and my respect for the mavericks of music. It is my intention that the colors and irregularities capture the power and intensity of the music itself; putting a face on some of the most influential sounds into an unconventional portrait. It is my hope that each image be interesting enough they invoke the question; who is this person and what did their music sound like?
My driving inspiration has been to demonstrate that portraits do not always have to be an image of perfection but can encompass lumps, bumps, and assemblage to show dimension. The newer work shows a progression towards slightly more realism and less of a speculative approach but with the same rawness that reflects the electrifying drama of the stage lights and dimly lit nightclub funk. The portraits presences are bold even in the low light of the evening with essence of expressionist painters and the California Funk and Assemblage Art of the 50's.
The process starts with wood and wire and then builds upon by layering, shifting and manipulating muslin, various found objects, paper and acrylic paint until it becomes an unconventional portrait. These larger than life paintings rely on paint, surface building and graphic illusion to portray their dimension. Like any portrait they are intended to be viewed from the front but the sides offer some abstraction with adjoining flat and dimensional surfaces and twisted features. The valleys and peaks of the surface eventually give way to one of the oldest art-forms, the portrait, in a spontaneous construction.